Ghost Light: The Haunting (virtual)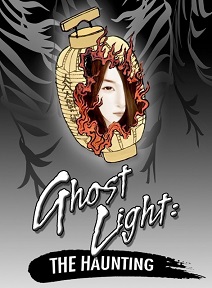 Check out these pictures and reviews from the 2015 Off-Broadway production of Ghost Light: The Haunting.
"If you are looking to get spooked-out theater style, then this is for you... loads of suspense and unexpected things that happen that will startle and rattle you and keep you on edge." - The Examiner


"Revealing any more of the story of the delightful and chilling production would not only be unfair to you, but would very likely anger at least one very temperamental theater ghost... the perfect recipe for a goosebump-filled evening." - ScreamQueenz
By Carol Fisher Sorgenfrei
Directed by Penny Bergman
Co-Conceived by Penny Bergman and Carol Fisher Sorgenfrei

Presented by La Luna Productions as a fundraiser for Cape May Stage, Ghost Light: The Haunting is a timely tale that reminds us to #Stopasianhate and #stopaapithate.


A portion of donations made to Cape May Stage will be donated to stopaapihate.org to help forward their important mission to effectively address anti-Asian racism and to end all forms of structural racism leveled at Black, Indigenous, and other communities of color.
The ghost of a Japanese-American actress returns to wreak vengeance on the ambitious husband who betrayed her in this contemporary fusion of Macbeth and the kabuki Yotsuya Ghost Tales.

Click Below to view Stream.
Click Vimeo Link to view
Ghost Light: The Haunting streaming access begins:
Oct 28th, 2021 at 8:00 PM (EST) through

To View Ghost Light: The Haunting's Virtual Program Click Below:
Ghost Light: The Haunting
A DIGITAL THEATRE EXPERIENCE
Spend a haunting Halloween with Japan's most terrifying female ghost! The true tale of Oiwa's undying vengeance is the original J-Horror story, retold here with a contemporary twist.
American actress Keiko, Oiwa's direct descendant, is brutally betrayed by her ambitious actor husband Bryan. Eerily re-enacting Oiwa's tale, Keiko's ghost haunts Bryan as he attempts to navigate a high-profile Broadway production of Macbeth. His life begins to unravel in ways that parallel the witchery and horror of Shakespeare's Scottish king as Keiko's ghost seeks revenge.
Replete with glamour, betrayal, blood and irony, the Off-Broadway production of Ghost Light: The Haunting was New York Metro's featured Halloween "must see" for 2015.