Cape May Stage
We hope you can take a moment today to donate to Cape May Stage, which will allow us to continue providing a place to connect with the wonder of live theater, to hear stories that expand our minds & feed our souls, and to celebrate the indelible power of community in our lives. Thank you in advance for believing in Cape May Stage and helping us achieve an even brighter future.
Hero Donors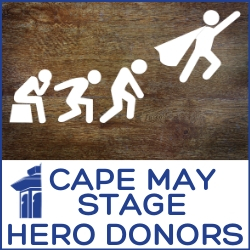 In times of crisis, theatres like Cape May Stage can be a place of community, to come together and move forward into the future. We need you now more than ever. Since we must keep our distance to stop the spread of this disease, we can't start our season as planned. With our performances delayed, we have very little income right now, but expenses keep coming in. We are applying for emergency grants, but they won't come fast enough.
This saga of what is happening all over our planet is not finished yet… This story needs heroes. Those heroes could be you.
This is a time for super heroes. Please donate what you can. Together, we can keep our beloved theatre alive.
Donate
Other Donation Opportunities