Theatre Preservation Fund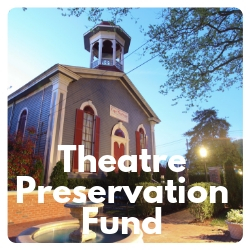 The Robert Shackleton Playhouse, formerly the Cape Island Presbyterian Church, was built in 1853. It is now recognized as a National Historic Landmark due in part to its unique architectural accents, most notably the onion shaped cupola atop the building which is indicative of the exotic Moorish revival style. While nearly torn down several decades ago, a group of concerned and passionate Cape May Residents formed Project Encore. The goal of Project Encore was to restore this unique building and help transform it into a top notch theatre. Over many years and through $1.5 million in donations raised, The Robert Shackleton Playhouse was born. We are forever grateful for everyone involved in Project Encore and are so lucky to have a magnificent home for Cape May Stage.
As is the nature with historic buildings... they often need on-going repairs and renovations. Won't you consider donating to the Theatre Preservation Fund today and help ensure that Cape May Stage always has a theatre to call home?