PNC Broadway Series - Carole J. Bufford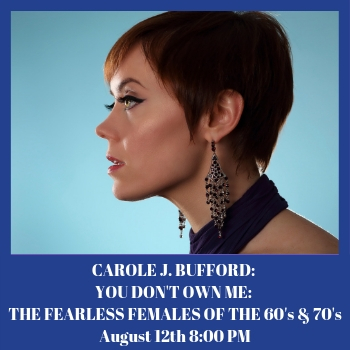 Check out some of Carole J. Bufford's amazing performances below!

"It turns out that the great Sophie Tucker was not, in fact, the last of the Red Hot Mammas. That title can now be claimed by the young Ms. Carole Buford."
- The Wall Street Journal
"The real thing: you know it when you see it... The way her voice, with its blues inflections, cut a swath, leaving nothing standing, tempts me to describe her with groveling hyperbole as an earthier, more acerbic 21st-century Barbra Streisand."

-Stephen Holden, The New York Times


"Her voice, bright yet sensual, soared... Bufford threw herself into each number; her exuberance and sense of humour won us over from the outset."

- Clive Davis, The Times (UK)

You Don't Own Me:
The Fearless Females of The 60s & 70s
Monday August 12, 2019 at 8:00 PM

With music made famous by Janis Joplin, Dusty Springfield, Tina Turner, Carole King, Lesley Gore, Roberta Flack, Shirley Bassey, Nancy Sinatra, Cher, Jeannie C. Riley and more, Carole celebrates the songstresses of the 1960s and 70s. Putting her own inimitable spin on these classics, she will delve into and celebrate a time of great change and transition in America and across the pond. The musical and cultural landscape was never the same after these bold and daring women planted their flags and ensured their voices were heard.


Carole J Bufford's You Don't Own Me was recently named the Show of the Year and Carole J. Bufford was named Artist of The Year by the BroadwayWorld Awards.
Carole J. Bufford: A recipient of the Nightlife, Bistro, and BroadwayWorld Awards for Outstanding Vocalist, Carole has become one of the most sought after young performers on the American jazz and cabaret scene. She recently enjoyed a highly praised 10 month solo run at New York's Birdland Jazz Club and a monthly residency at Feinstein's/54 Below and is currently touring around the US. Her shows, speak easy. (featuring the Grammy Award-winning Vince Giordano & The Nighthawks), Come Together, and You Don't Own Me earned her rave reviews from The New York Times, The Wall Street Journal, and The Times (UK). She was featured in Michael Feinstein's American Songbook series at Jazz at Lincoln Center as well as numerous Pops performances with orchestras across the country. Carole's debut album, All By Myself, was just released and is now available for purchase. www.CaroleJBufford.com