The Taming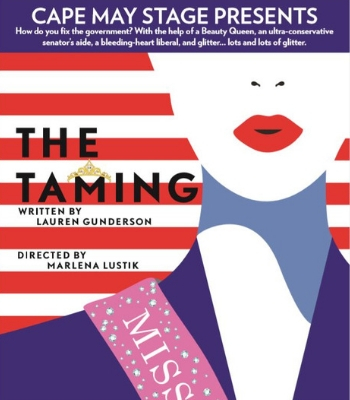 By Lauren Gunderson
Directed by Marlena Lustik
September 25th - November 1st

Wednesday - Saturday at 7:30PM
Saturday & Sunday at 3:00PM



Tweeting, politics, and undying giddiness for James Madison--what else could you expect to find at a Miss America pageant? In this hilarious, raucous, all-female "power-play" inspired by Shakespeare's Shrew, contestant Katherine has political aspirations to match her beauty pageant ambitions. All she needs to revolutionize the American government is the help of one ultra-conservative senator's aide on the cusp of a career breakthrough, and one bleeding-heart liberal blogger who will do anything for her cause.

Age Guide: 16+
September 25th - Preview Night
September 26th - Official Opening Night with Pre-party at the theater and After-Party at The Mad Batter
October 2nd - 6th - Theater Week

(see below for more info)
October 18th - Cast & Crew Talk-Back
October 20th - Pay-What-You-Wish
(Pay-What-You-Wish is only available 1 hour prior to show time, at the theatre, and is a first come first serve basis. Doors open up 1 hour before the show. Patrons pick whatever seat is available and Pay-What-You-Wish. You must have cash or check only. If you would like to see the show on this date and don't want to run the risk of it being sold out, you may still purchase a ticket at a regular price by calling the box office or purchasing online.)
All Saturday Matinees - Best Value Price

Theater Week -
Cape May Stage and East Lynne Theater Company join forces for the Third Annual Theater Week! From

October 2nd – October 6th

, all tickets for "The Taming" at Cape May Stage are $25 and 50 tickets per night of East Lynne Theater Company's production of "Arsenic and Old Lace" will be available for $25.




Ways to Save!


Before purchasing your ticket, consider our season passports to enjoy Cape May Stage in the most cost effective way:

Season Passports:


Our Season Passports allow for a more flexible way to enjoy Cape May Stage. Pick the amount of shows you would like to see in the 2019 season and you can pick your performances and seats whenever you are ready.
Additional Passport Benefits:
Save 15% off regular ticket prices.

Complimentary exchanges. When plans change contact the Box Office to make quick ticket exchanges to a date that works for you with no exchange fees.

Choose your seats for the 2019 season all at once or on a show by show basis.

Receive a subscription to "Stage Secrets" our monthly behind-the-scenes email newsletter.


Cast Biographies:
Elise Hudson (Katherine) is thrilled to be making her Cape May Stage debut! NYC Theatre: Clara in The Show-Off (off-Broadway at St. Clement's), Looking for Lightning (United Solo Fest, Bestseller). Regional Theatre: Josie in A Moon for the Misbegotten (Playhouse on Park), Olivia in Twelfth Night, Lady Macduff/Witch in Macbeth (Philadelphia Shakespeare Theatre), Ghost of Past in A Christmas Carol (Trinity Rep), Susannah in Laughing Stock (Peterborough Players), Eliza in The (Curious Case of the) Watson Intelligence (Summer Rep Fest), Helena in A Midsummer Night's Dream (Lost Nation Theater), and others. MFA Theatre: Cherie in Bus Stop, Becky Lou in The Tooth of Crime, Lychorida/Diana in Pericles, and others. Film: BlacKkKlansman, Some Freaks. TV: She's Gotta Have It (Netflix), Law and Order: SVU (NBC). MFA from Brown/Trinity Rep and proud member of AEA and SAG-AFTRA. Big thanks to the Hudsons, Josh, and Carol. www.EliseHudsonActor.com @hudson_elise


Holly Anne Williams (Patricia) Based in New York City, Holly is thrilled to be back at Cape May Stage having last been seen as "Corie" in Barefoot in the Park. Originally from Jacksonville, Florida, she has been acting and singing since her early teens, and is passionate about using comedy to tell stories of belonging to bring joy and speak truth to audiences. National tours: I Love You, You're Perfect, Now Change; Civil War Voices, Miracle on 34th Street. Regional: Barter Theater, Alhambra Dinner Theater, Weathervane Playhouse, Prather Entertainment. B.F.A. University of Miami, FL. Special thanks to Roy, Marlena, Dave, and Christine. Extra love to G. www.hollyannewilliams.com


Dana A. Iannuzzi (Bianca) is a New York based Actor/Director who is thrilled to be working at Cape May Stage and this fantastic team. She received a BA in Theatre Arts Performance Studies from Muhlenberg College. TV/Film Credits: The Border (Columbia Grad Film), The Leftovers (HBO), Guiding Light (CBS) Theatre Credits: Havana Nocturne (Workshop), The Buddy Holly Story, Horseplay, Roofless: A Hip-Hop Fable, Skippyjon Jones, The Deciders, The Vagina Monologues. Love and gratitude to her incredible family.

http://www.danaiannuzzi.com @thedanaiannuzzi

Crew Biographies:


Lauren Gunderson (playwright)
is a playwright, screenwriter and short story author from Atlanta, GA. She received her BA in English/Creative Writing at Emory University, and her MFA in Dramatic Writing at NYU Tisch, where she was also a Reynolds Fellow in Social Entrepreneurship.
She was named the most produced playwright in America by American Theatre Magazine in 2017, was awarded the 2016 Lanford Wilson Award from the Dramatist Guild, the 2016 Otis Gurnsey Award for Emerging Writer, and was awarded the prestigious 2014 Steinberg/ATCA New Play Award for her play, I and You (also a Susan Smith Blackburn Blackburn and John Gassner Award finalist). That play was an NNPN Rolling World Premiere that started at Marin Theatre Company and has seen over 40 productions nationwide. She is also a recipient of the Mellon Foundation's 3-Year Residency with Marin Theatre Company.
Marlena Lustik (Director) last season directed Erma Bombeck: At Wit's End for Cape May Stage. Other Cape May Stage productions include Billy Bishop Goes to War, Red Hot Patriot, A Walk in the Woods, and A Tuna Christmas. She staged A Christmas Carol: The Radio Show and This Wonderful Life which were performed during the holiday season at Congress Hall. New York credits include Anton Chekhov's Uncle Vanya (which she co-adapted) for the Triangle Theatre Company and a production of A Cherry Orchard Off-Broadway for the Yorkville Repertory Theatre featuring Maureen Garrett. She has directed for the Deptford Players, The Comedy Club, the Snarks, and the 29th Street Rep in New York as well as done workshops of new plays such as Piano Bar Blues, Bavarian Rage, and Lotteria. Her on-site theatre piece based on Everyman was performed at the Church of the Holy Trinity. Her productions of The Seagull with Robert Newman and Vita and Virginia with other members of the cast of Guiding Light were performed at the Helen Hayes Theatre in Nyack, NY. She has directed as a guest artist at Berea College, Lafayette College, and the School of Visual Arts in NYC. Marlena is also an accomplished actress who has appeared on Broadway, Off Broadway and at many regional theaters including The Long Wharf Theatre, Indiana Repertory Theatre, The Goodspeed Opera House, The Kennedy Center, and of course Cape May Stage. Thanks to Roy for the opportunity of working on this delightful play and my daughter Alexa for keeping me sane.


Amy Hadam (Production Stage Manager) is so thrilled to be back for her fourth season! Past Cape May Stage credits include: The Whipping Man, Sex with Strangers, Barefoot in the Park, Disgraced, Buyer & Cellar, One Christmas Carol, Billy Bishop Goes to War, The Tale of the Allergist's Wife, The Gin Game, Outside Mullingar, The Ultimate Christmas Show, Erma Bombeck: At Wit's End, Chapter Two, The Lion in Winter, The Shuck, and An Actor's Carol. She is also the Education Director here at Cape May Stage. Amy has also been the Stage Manager for Dreamcatcher Repertory Theatre (Summit, NJ) since 2013; recent credits include Continuing the Conversation, What Stays, Things Being What They Are, and Shipwrecked! An Entertainment: The Adventures of Louis de Rougemont (As Told By Himself). Other credits include: 21: The Musical (NYC), Jekyll & Hyde and Spamalot at Surflight Theatre (Beach Haven, NJ), A Piece of My Heart and Janey Miller's World Tour at Speranza Theatre Company (Jersey City, NJ), Miss Witherspoon and The Further Adventures of Hedda Gabler at The Theater Project (Maplewood, NJ), and Talking to Westfield and At Liberty Hall at Premiere Stages (Union, NJ). Amy is a proud member of Actors' Equity Association.


Meg Dowling (Rehearsal Production Stage Manager) is excited to be returning to Cape May Stage for a third season! She is a graduate of East Stroudsburg University with a B.A. in Theatre. Cape May Stage credits include: Tale of the Allergist's Wife; Gin Game; Outside Mullingar; and A Christmas Carol: The Radio Play, Erma Bombeck: At Wit's End, Chapter Two, The Lion in Winter, The Shuck, and An Actor's Carol. NEW YORK credits include: Henry V (New York Classical); School for Husbands (New York Classical); New York Innovative Theatre Awards; Brilliant Traces (Rising Sun); and Good Night Lovin' Trail (Rising Sun). REGIONAL credits: Jesus Christ Superstar (Seven Angels Theatre); He Wrote Good Songs (Seven Angels); Room of My Own (Seven Angels); The First Fifty Years (East Lynne); Closer Than Ever (Mazeppa); and Arthur and the Tale of the Red Dragon (People's Light). Meg is a proud member of Actors' Equity Association. Special thanks to our great team here at Cape May Stage and to Mom, Dad, Chris and Jess for your never-ending love and support.
Leah Mazur (Set Design) Leah Mazur received her MFA from the University of Kansas in Lawrence, Kansas. She is a freelance Scenographer and Assistant Professor of Scenography at St. Mary's College of Maryland. She has worked professionally in the Chicago lakeshore and Kansas City areas. Select design credits include the costume designs for Spring Awakening, Amadeus, Hand to God, and Eclipsed; scenic designs for Spring Awakening, Nora, Little Women, The Broadway Musial, and Next to Normal; and lighting designs for Angel Street and Next to Normal. Previous Cape May Stage designs include The Lion in Winter.

Heather Crocker (Lighting Design) is a New York based lighting and projections designer and is thrilled to be returning to Cape May Stage this season. She received her MFA in Theatre Design and Technology (Lighting/Projections Design) from the University of Missouri, Kansas City in 2015. Cape May Stage lighting credits: Billy Bishop Goes to War and The Tale of the Allergist's Wife. Other lighting design credits include; Murder For Two (Lyric Stage Company of Boston), The Master Builder (Colby College, ME), Over the River and Through the Woods, West Side Story (City Theatre, ME), End Days (Voice Theatre, NY), The Nether, Kimberly Akimbo, Vigils, The Lieutenant of Inishmore (Mad Horse Theatre Company, ME), The Caucasian Chalk Circle, Almost, Maine (UMKC Theatre), Little Women (UMKC Conservatory of Opera), Number the Stars (Coterie Theatre, KC), Projections design credits include: Freedom Rider (UMKC Theatre), Ragtime, and Chess at Gallery Players in Brooklyn, NY.


Sera Bourgeau (Costume Design) is thrilled to be returning to Cape May Stage for the 2019 season! While always a Cape May local at heart, Sera is currently based in New York City, and has spent much of the last decade designing and working at theatres all over the country. Sera was the Resident Costume Designer for Cape May Stage's 2018 season and designed costumes for Erma Bombeck: At Wit's End, Chapter Two, The Lion in Winter, The Shuck, and An Actor's Carol. Selected Regional Credits: Outside Mullingar (Cape May Stage), Intimate Apparel (Colorado Springs Fine Arts Center), A Chorus Line (Mill Mountain Theatre), Nikola Tesla Drops the Beat (World Premiere, Adirondack Theatre Festival), Knights of the Sales Office (ATF), Nickel Mines (Off Broadway New York Musical Theatre Festival), Turn of the Screw (Theater at Monmouth), Still Life With Iris (Long Wharf Theatre). Selected Other Credits: Pericles: Prince of Tyre (Guest Artist, University of New Hampshire), Woyzeck (University of California – Irvine), Nickel Mines (World Premiere, UC Irvine), Tellin' Tales (Little Red Wagon Summer Tour), Daddy's Dyin' Who's Got the Will? (HCAF Point Theatre). MFA: University of California, Irvine. BA: University of New Hampshire. www.serabourgeau.com
Asia Twi McCallum (Sound Design) is a sound designer/engineer raised in Baltimore, MD currently living in New York. Asia comes from a 4-year background in costume design, but decided to transition into the art of sound after encouraging herself to work outside of her comfort zone. Some of her production credits include various dance shows at New York Live Arts, a sound design residency at TheatreSquared in Arkansas, In the Heights (Warner Brothers,) and American Ninja Warrior (NBCUniversal.) When not working and to find some inspiration, Asia loves reading urban fiction novels, watching Judge Judy and culinary shows, and visiting Coney Island. She is super thankful to Cape May Stage for believing in her, every opportunity counts! You can follow Asia's work on Instagram @i.work.backstage or visit her website at www.twibackstage.me.
Leah Nadolski
(
Props Master) is happy to be working at Cape May Stage. She graduated from DeSales University in 2017 with her degree in Theatre Tech and Design with a concentration on set design and props. She also interned at the Arden theatre as the props intern. She would like to thank her family and friends for their love and support.







Actors' Equity Association (AEA)
was founded in 1913 as the first of the American actors' unions. Equity's mission is to advance, promote, and foster the art of live theatre as an essential component of our society. Today, Equity represents more than 40,000 actors, singers, dancers, and stage managers working in hundreds of theatres across the United States. Equity members are dedicated to working in the theatre as a profession, upholding the highest artistic standards. Equity negotiates wages and working conditions and provides a wide range of benefits including health and pension plans for its members. Through its agreement with Equity, this theatre has committed to the fair treatment of the actors and stage managers employed in this production. AEA is a member of the AFL-CIO and is affiliated with FIA, an international organization of performing arts unions. For more information, visit
www.actorsequity.org