Sidekicked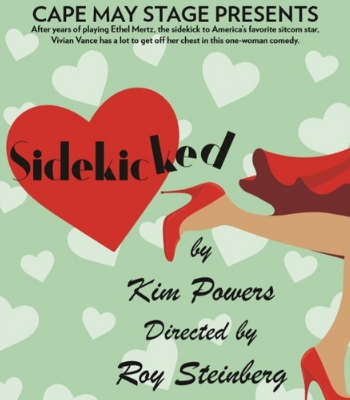 By Kim Powers
Directed by Roy Steinberg
August 7th-September 20th

Tuesday-Sunday at 8:00PM

It's the last night of filming "I Love Lucy" and America's favorite sidekick - Ethel Mertz, played by Vivian Vance - has a lot to get off her chest. This new play gives a glimpse into the behind the scenes drama of "I Love Lucy" as well as incredible unheard stories from Vivian Vance's extraordinary career.
Age Guide: 16+
August 7th - Best Value Preview Night
August 8th - Official Opening Night with Party
August 23rd - Best-Value-Night
September 6th - Cast & Crew Talk-Back
September 8th - Pay-What-You-Wish
(Pay What-You-Wish is only avaliable 1 hour prior to show time, at the theatre, and is a first come first serve basis. Doors open up 1 hour before the show. Patrons pick whatever seat is avilable and Pay-What-You-Wish. You must have cash or check only. If you would like to see the show on this date and don't want to run the risk of it being sold out, you may still purchase a ticket at a regular price by calling the box office or purchasing online.)
Ways to Save!
Before purchasing your ticket, consider our passports to enjoy Cape May Stage in the most cost effective way:
Season Passports:

Our Season Passports allow for a more flexible way to enjoy Cape May Stage. Pick the amount of shows you would like to see in the 2019 season and you can pick your performances and seats whenever you are ready.
Additional Passport Benefits:
Save 15% off regular ticket prices.

Complimentary exchanges. When plans change contact the Box Office to make quick ticket exchanges to a date that works for you with no exchange fees.

Choose your seats for the 2019 season all at once or on a show by show basis.

Receive a subscription to "Stage Secrets" our monthly behind-the-scenes email newsletter.
Cast & Crew Biographies:
Sally Mayes (Vivian Vance) Sally made her Broadway debut in Cy Coleman's Welcome To The Club. Her performance won critical praise along with a Theater World Award and Outer Critics Circle nomination as one of Broadway's Outstanding Newcomers. On Broadway, Sally is perhaps best known for her performance in the Roundabout Theater revival of She Loves Me for which she won Tony, Drama Desk and Outer Critics Circle nominations. Sally appeared as Aunt Corene in Urban Cowboy (Drama Desk nomination). She drew raves as Mae West in the National Tour of Dirty Blonde and also appeared in the Broadway revival of Steel Magnolias. Sally starred in several Off-Broadway productions including Closer Than Ever (Outer Critics Circle nomination), Das Barbecu, Pete N' Keely (Drama Desk nomination for Outstanding Actress in a Musical), Play It Cool, Good Ol' Girls, and The Best Is Yet To Come. Film and Television credits include Alpha House, City Hall, Double Parked and Bye Bye Birdie, Law And Order Criminal Intent, Sex And The City and The Job. Sally also appears on countless cast recordings including, Closer Than Ever, She Loves Me, Das Barbecue, Bye Bye Birdie, Lost In Boston, Unsung Musicals, Unsung Sondheim, and Night Of The Hunter, to mention a few. Sally has five solo albums, The Dorothy Fields Songbook, Our Private World: The Comden And Green Songbook, The Story Hour, Boys And Girls Like You And Me, and Valentine. Sally's much anticipated nightclub appearances have garnered her rave reviews from coast to coast; she has been nominated for twelve Manhattan Association of Cabarets & Clubs (MAC) awards, and has won two Back Stage Bistro awards for excellence in cabaret and recording. The New York Times calls her 'incandescent, deliciously saucy.' People Magazine describes her as 'the kind of rich theatrical voice that elevates a show tune.' And Time Magazine says 'Sally Mayes renders songs as richly nuanced as one-act plays.'


Kim Powers (playwright)
is a two-time Emmy winner and the author of the novels Dig Two Graves and Capote in Kansas, as well as the critically acclaimed memoir The History of Swimming, a Barnes & Noble "Discover" Boo and Lambda Literary Award finalist for Best Memoir of the Year. Diane Sawyer called it "a riveting memoir: sensitive, wise and unsparing." The New York Times Book Review called it "raw and engrossing." He also wrote the screenplay for the festival-favorite indie film Finding North. Powers is currently the Senior Writer for ABC's legendary news magazine 20/20, part of the team that has received an unprecedented three consecutive Edward R. Murrow Awards. A native Texan, he received an MFA from the Yale School of Drama. And he loves I Love Lucy.
Roy Steinberg (Director) has directed classical and contemporary plays as well as world premieres all over the United States. He directed Ann Jackson, Kim Hunter, and Alvin Epstein in The Madwoman of Chaillot at the Neighborhood Playhouse in New York. As a member of Circle Repertory Company, he developed and directed The Marriage Fool with Lynn Cohen and Farley Granger. His production of Othello played at the Intar Theatre on Theatre Row in New York and he directed Joan Copeland in a new play called Second Summer for the Colleagues Theatre Company. He was the Artistic Director of Theatre Matrix in New York and the John Michael Kohler Arts Center in Wisconsin. He has directed touring companies of bilingual productions of Moliere's The Miser and The Bourgeois Gentleman. As a Guest Artist he has directed college students throughout our nation in plays like American Buffalo, Our Town, The Importance of Being Earnest, and A Midsummer Night's Dream. Mr. Steinberg has also produced and directed film and television including Guiding Light, One Life To Live, Days Of Our Lives, Forensic Files, and Scandalous Art. He has four Emmy nominations for his work. He directed Jo Beth Williams in Life In General on strike.tv, which won five Spirit Awards. At Cape May Stage, Mr. Steinberg has directed Souvenir, Moon Over Buffalo, Blithe Spirit, How to Make a Rope Swing, Say Goodnight Gracie, Social Security, Visiting Mr. Green, Proof, Class, Steel Magnolias, The Understudy, I Hate Hamlet, Boeing Boeing, Happy Days, Freud's Last Session, The Santaland Diaries, The Woolgatherer, Mistakes Were Made, This Wonderful Life, The Search for Signs of Intelligent Life in the Universe, Dead Man's Cell Phone, Disgraced, Buyer and Cellar, The Tale of the Allergist's Wife, The Gin Game, Outside Mullingar, and The Ultimate Christmas Show. Most recently, for Cape May Stage's 2018 season, Mr. Steinberg directed Chapter Two, the world premiere of The Shuck, and the East Coast premiere of An Actor's Carol. Roy Steinberg has an MFA from the Yale School of Drama. He also functions as the Producing Artistic Director. His proudest production is his daughter, Alexa Catherine.


Amy Hadam (Production Stage Manager) is so thrilled to be back for her fourth season! Past Cape May Stage credits include: The Whipping Man, Sex with Strangers, Barefoot in the Park, Disgraced, Buyer & Cellar, One Christmas Carol, Billy Bishop Goes to War, The Tale of the Allergist's Wife, The Gin Game, Outside Mullingar, The Ultimate Christmas Show, Erma Bombeck: At Wit's End, Chapter Two, The Lion in Winter, The Shuck, and An Actor's Carol. She is also the Education Director here at Cape May Stage. Amy has also been the Stage Manager for Dreamcatcher Repertory Theatre (Summit, NJ) since 2013; recent credits include Continuing the Conversation, What Stays, Things Being What They Are, and Shipwrecked! An Entertainment: The Adventures of Louis de Rougemont (As Told By Himself). Other credits include: 21: The Musical (NYC), Jekyll & Hyde and Spamalot at Surflight Theatre (Beach Haven, NJ), A Piece of My Heart and Janey Miller's World Tour at Speranza Theatre Company (Jersey City, NJ), Miss Witherspoon and The Further Adventures of Hedda Gabler at The Theater Project (Maplewood, NJ), and Talking to Westfield and At Liberty Hall at Premiere Stages (Union, NJ). Amy is a proud member of Actors' Equity Association.
Spencer Potter (Set Design) is a Professor of Design and freelance costume/set designer working between the Western and Mid-Atlantic regions. Spencer's design credits at Cape May Stage include: Ultimate Christmas Story...Abridged! Outside Mullingar, Billy Bishop Goes to War, Buyer and Cellar, The Whipping Man, The Search for Signs of Intelligent Life, Red Hot Patriot, Blithe Spirit, How to Make a Rope Swing, Erma Bombeck: At Wit's End, An Actor's Carol and assistant designer for Time Stands Still. Other design credits include: Costumes- The Roads to Home, Die Fledermaus, The Odd Couple, The 25th Annual Putnam County Spelling Bee. Scenery - Singin' in The Rain, Noises Off, And Then There Were None, Tons of Money, The Woman in Black and Steel Magnolias. In the past, Spencer has also worked as Cape May Stage's Production Manager/Technical Director and as the Resident Intern Program Coordinator. Many thanks to Roy, Marlena, Shawn, and Michael.


Jess Goldstein (Costume Design) is a Tony Award-winning Costume Designer with a resume that begins with his professional New York debut, designing costumes for Sam Shepard's landmark off-Broadway production of Buried Child in 1978. Other major credits include Jersey Boys (Broadway, West End, and all touring and international companies), the recently opened, critically-acclaimed revival of On The Town, Disney's Newsies, The Merchant Of Venice with Al Pacino, Lincoln Center's Henry IV with Kevin Kline and The Most Happy Fella, The Roundabout's The Apple Tree with Kristin Chenoweth, The Homecoming with Ian McShane, Tintypes, Enchanted April and Daniel Sullivan's Broadway revival of Julius Caesar starring Denzel Washington.
In 2005 he won the Tony for his designs for The Rivals at The Vivian Beaumont Theater. He is the 2015 recipient of the Irene Sharaff Award for Lifetime Achievement in Costume Design. He has won both the Lortel and Hewes Awards for his designs for Paula Vogel's The Mineola Twins and was the 2010 recipient of the Michael Merritt Award for Excellence in Design and Collaboration.
Equally adept at designing new plays as well as classics, his credits include the original New York productions of Proof, Dinner With Friends, Take Me Out, How I Learned To Drive, Love! Valour! Compassion!, Stuff Happens, Sight Unseen, Corpus Christi, Collected Stories, When She Danced with Elizabeth Ashley, The Columnist with John Lithgow and Mothers And Sons with Tyne Daly, as well as many others.
A native New Yorker, Jess graduated from Boston University's School of Fine Arts (Alumni of the Year 2007) and the Yale School of Drama, where he has served on their faculty as a Professor of Theater Design since 1990. He resides in Manhattan and Asbury Park, NJ, where he shares his homes with husband and Emmy Award-winning writer Kim Powers and their dog Frankie the Morkie.

Heather Crocker (Lighting Design) is a New York based lighting and projections designer and is thrilled to be returning to Cape May Stage this season. She received her MFA in Theatre Design and Technology (Lighting/Projections Design) from the University of Missouri, Kansas City in 2015. Cape May Stage lighting credits: Billy Bishop Goes to War and The Tale of the Allergist's Wife. Other lighting design credits include; Murder For Two (Lyric Stage Company of Boston), The Master Builder (Colby College, ME), Over the River and Through the Woods, West Side Story (City Theatre, ME), End Days (Voice Theatre, NY), The Nether, Kimberly Akimbo, Vigils, The Lieutenant of Inishmore (Mad Horse Theatre Company, ME), The Caucasian Chalk Circle, Almost, Maine (UMKC Theatre), Little Women (UMKC Conservatory of Opera), Number the Stars (Coterie Theatre, KC), Projections design credits include: Freedom Rider (UMKC Theatre), Ragtime, and Chess at Gallery Players in Brooklyn, NY.
Michelle A. Prudente
(Rehearsal Production Stage Manager / Sound Design) is a Los Angeles-based Stage Manager/Sound Designer and is thankful for the opportunity to come back to her home state this season at Cape May Stage. Sound Design highlights include: Polaroid Stories at the Stella Fry Theatre (Union, NJ); the world premiere play Lost Generation at The Sherry Theatre (North Hollywood, CA) and Henrik Ibson's The Lady from the Sea at The Actors' Studio (North Hollywood, CA). Stage Management highlights include: Hamlet, Boomerang Theatre Co. (NY, NY); Sacred Resistance, Jewish Women's Theatre at The Braid (Santa Monica, CA); No Wake, Route 66 at VS Theatre Co. (West Coast Premiere in Los Angeles, CA). She has overseen multiple world premiere productions in Los Angeles including: More Guns the musical (The Zephyr); The Mother of Henry, The Latino Theatre Company (LATC); Cynosemma: A Ritualistic Opera, Overtone Industries (Son of Semele) and the first reading of the Saved by the Bell musical (The Kirk Douglas). Michelle holds a BA in Theatre from Kean University and is proud member of Actors' Equity Association.


Leah Nadolski (Props Master) is happy to be working at Cape May Stage. She graduated from DeSales University in 2017 with her degree in Theatre Tech and Design with a concentration on set design and props. She also interned at the Arden theatre as the props intern. She would like to thank her family and friends for their love and support.







Actors' Equity Association (AEA) was founded in 1913 as the first of the American actors' unions. Equity's mission is to advance, promote, and foster the art of live theatre as an essential component of our society. Today, Equity represents more than 40,000 actors, singers, dancers, and stage managers working in hundreds of theatres across the United States. Equity members are dedicated to working in the theatre as a profession, upholding the highest artistic standards. Equity negotiates wages and working conditions and provides a wide range of benefits including health and pension plans for its members. Through its agreement with Equity, this theatre has committed to the fair treatment of the actors and stage managers employed in this production. AEA is a member of the AFL-CIO and is affiliated with FIA, an international organization of performing arts unions. For more information, visit
www.actorsequity.org