Movie Night: A Community "Film-Raiser"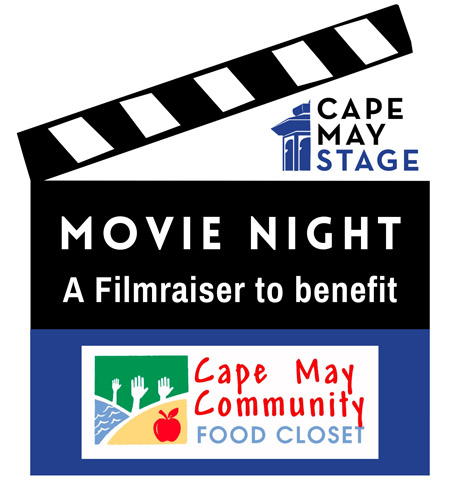 Movie Night at Cape May Stage is a community "Film-Raiser" event to benefit a local non-profit. Join us this fall for a series of classic films, date night movies, and family-friendly flicks.

As part of our commitment to the local community, 50% of all proceeds from this movie series will be donated to the Cape May Community Food Closet to help in their efforts to fight hunger close to home.
Movie Dates:
Saturday, October 15th at 6 pm: Casablanca
Saturday, October 15th at 8 pm: When Harry Met Sally
Sunday, October 16th at 3 pm: Willy Wonka and the Chocolate Factory
Saturday, October 22nd at 6 pm: Young Frankenstein
Saturday, October 22nd at 8 pm: The Sixth Sense
Sunday, October 23rd at 6 pm: Hocus Pocus
Friday, November 4th at 6 pm: A Raisin in the Sun
Saturday, November 5th at 8 pm: My Big Fat Greek Wedding
Sunday, November 6th at 3 pm: E.T. The Extra-Terrestrial

Ticket Prices:

The following tickets are available for the Cape May Stage Movie Nights.
One Adult Ticket (ages 18+): $10

One Child Ticket (ages 12-17): $5

Family Special: $20, includes 2 adults and up to 4 kids under the age of 12

*

Senior Special (65+): $20, includes a pass to see as many movies as you want this fall

*




* The Family Special and Senior Special are only available at the door with a cash payment the night of the movie.