Dr. K's Motown Revue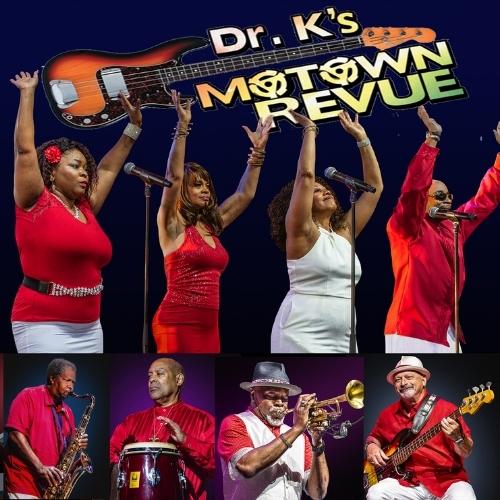 Monday, July 18th at 7:00 PM

** PLEASE NOTE THAT THIS CONCERT IS AT CONVENTION HALL, located at 714 Beach Avenue in Cape May, NJ **

America's #1 Authentic Motown Revue Band comes to Cape May!

This outstanding band of musicians and signers takes you on a very realistic journey of the Motown sound, and makes you want to sing along on every familiar song they play. They have kept the Motown sound true to its roots and each and every performance they do transports you back to another era . . . what a ride! Every audience both young and not so young can't help dancing to that Motown beat, often leaving at the end of the night asking where can they see and hear the band next. Their appeal in large part is attributable to the perfect blend of the Motown era costumes worn and the outstanding group of singers who compliment this latter day "Funk Brothers" type band of musicians. Each singer is quite capable of fronting any band as a soloist and the combination of singers is more than enough to deliver authentically the vocal sound of the Motown roster of artists from that time. The result is a powerhouse performance that adds not only to their reputation but to the reputation of any venue that books them.

Three ticket options are available for this show:

VIP: Includes a pre-show VIP event with complimentary appetizers and wine, along with Reserved seating in the first two rows. ($110/person)

Priority Admission: Includes reserved seating in the first two rows. ($85/person)

General Admission: Open seating on a first-come, first-served basis. ($50/person)

You will be able to select the option you prefer once you click on "Buy Tickets".
Ticket Prices:

VIP: Includes a pre-show VIP event with complimentary appetizers and wine, along with Reserved seating in the first two rows. ($110/person)
Priority Admission: Includes reserved seating in the first two rows. ($85/person)
General Admission: Open seating on a first-come, first-served basis. ($50/person)