The Lifespan of a Fact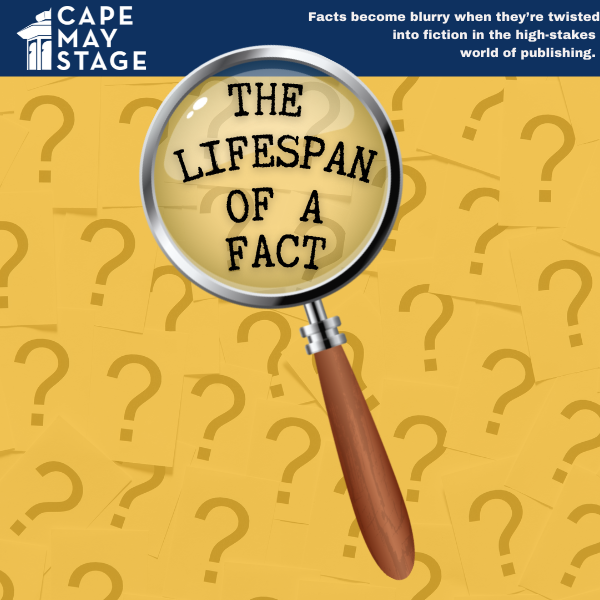 by Jeremy Kareken, David Murrell, and Gordon Farrell
Directed by Roy Steinberg

August 31st - October 2nd
Wednesday - Saturday at 7:00 PM
Sunday at 2:00 PM

A critically acclaimed 2018 Broadway play, this fast-paced story explodes with blistering comedy and timely relevance. In this comedic, yet gripping, battle over facts versus truth, a fresh-out-of-Harvard fact checker takes on a talented writer's essay that could save the sinking New York magazine from collapse.

Special Show Dates:

August 31 - Preview Night with discounted $40 tickets
September 1: Opening Night with Post-Show Party
September 16: Best Value Night - All tickets available at the best value price of $35
September 25: Pay-What-You-Wish Rush tickets – All available tickets on the day of the performance can be purchased at the box office for whatever price you wish to pay. Starts one hour before curtain, cash only.

Age Guide: 16+
Running Time: 1:20 with no intermission

Advisory: The Lifespan of a Fact is suitable for adults and older teenage audiences. Characters lock horns in a debate of fact vs. fiction, and they drop some F-bombs in the process. Their explosive tête-à-têtes feature other mature themes, including discussions of suicide.





Cast:



Bill Timoney (John D'Agata) Broadway: NETWORK, and ALL THE WAY(2014 "Best New Play" Tony Award). Off-Broadway: THE IRISH CURSE at the Soho Playhouse. Off-Off Broadway: PICKING PALIN at the NYC Fringe Festival, ENDLESS AIR, ENDLESS WATER at MCC, and THE MUNDY SCHEME at the Irish Arts Center's Irish Rebel Theater. Regional: American Repertory Theatre (MA), Arkansas Rep, Penobscot Theatre Company (ME), Mill Mountain Theatre (VA), and Musical Theatre West (CA). A New Jersey native, Bill's home state stage credits include NJ Rep, Shadow Lawn Stage, the Bickford Theater, the Black Box of Asbury Park, and the Celtic Theatre Company of NJ ("CTC"). He received a "Best Supporting Actor in a Play" award from Star Ledger Drama critic Peter Filichia for DA at the CTC, as well as a "Best Leading Actor in a Play" nomination for the CTC's THE WEIR. Bill's film appearances include Martin Scorsese's THE IRISHMAN, the Hallmark Channel holiday movie BROADCASTING CHRISTMAS, the HBO film version of ALL THE WAY, and the "one-shot" Horror flick LET'S SCARE JULIE (as Julie's Dad). TV: the SyFy Channel's 12 Monkeys (as Senator Royce), as well as episodes of The Blacklist, Hunters, Blue Bloods, The Marvelous Mrs. Maisel, Malcolm in the Middle, Orange is the New Black, Law & Order: Criminal Intent, Mr. Robot, FBI, Person of Interest, and Billions. Viewers of the soap opera All My Children know Bill as Alfred Vanderpool, "the preppie nerd of Pine Valley." Bill played Alfred in the show's popular "Greg & Jenny" storyline from 1982 through 1987, revisiting the role on a cameo basis from 1998 through 2005. Bill is a veteran voice actor whose work ranges from the anime TV series Pokémon and Disney's live-action movie MISSION 2 MARS (as the voice of the spacecraft computer), to the dubbed versions of the Oscar-winners KOLYA and IL POSTINO. Bill writes essays about the voice acting craft in his column "Heard But Not Seen: adventures in Voice Acting" for Videoscope Magazine. Bill and his wife Georgette Reilly Timoney (seen at CMS in the one-woman show RED-HOT PATRIOT: THE KICK-ASS WIT OF MOLLY IVINS, directed by Marlena Lustik) reside on the Jersey Shore with their beloved menagerie of dogs and cats. Bill is a proud member of Actors Equity Association.

Marlena Lustik (Emily Penrose) made her debut on Broadway in Foxy with Bert Lahr. Other Broadway credits include Pousse Café and Days in the Trees. Off Broadway she appeared in the original productions of the Pulitzer Prize winning play The Effect of Gamma Rays on Man-In-The-Moon Marigolds and One Flew Over the Cuckoo's Nest. Regional theatre credits include The Long Wharf Theatre, The Goodspeed Opera House and the Kennedy Center working with artists like David Straithorn, Swoozie Kurtz, Colleen Dewhurst and Peter Sellars. She has done numerous commercials and was nominated for a CLIO. Television and film credits include Rodeo Red and the Runaway, Times Square, With All Deliberate Speed and roles on Another World and One Life to Live. She appeared as Anna in the cult film My Brother Has Bad Dreams and there is an interview with her about that film in the August 2022 issue of Videoscope Magazine. Here at Cape May Stage, she has played Eleanor in The Lion in Winter, Aoife in Outside Mullingar, Mrs. Banks in Barefoot in the Park, Mrs. Gottlieb in Dead Man's Cell Phone, Julia in Lend Me A Tenor, Silda in Other Desert Cities, Berthe in Boeing Boeing, Lillian in I Hate Hamlet and Ouiser in Steel Magnolias. Last season it was her great pleasure to act in Adopt A Sailor: The Holiday Edition opposite Roy Steinberg and Colby Howell. She is delighted to be working with them again. An added treat is working with Bill Timoney, whose wife Georgette Reilly Timoney, Marlena directed in Red Hot Patriot: The Kick Ass Wit of Molly Ivins. Thanks as always to my daughter Alexa for using her professional psychological skills to keep me calm when I am acting. "Breathe Mom, Breathe"!

Isaac Josephthal is thrilled to be returning to Cape May Stage having previously performed in The Lion in Winter in 2018. In New York: Public Enemy (The Pearl Theatre Co.) and the premiere of Lars von Trier's Dogville (Tisch, dir. Robert O'Hara). Regional: If I Forget (Barrington Stage Company). International: Julius Caesar and Jean Genet's Splendid's (French National Theatre). TV: Big Dogs, Divorce (HBO), Hightown (Starz), New Amsterdam (NBC). A million thanks to Roy and the entire Cape May Stage team.



Show Details:


For more show details, including Director's Notes, Sponsors, Producers, and Press Photos, click here to view our 2022 season lineup.

Tickets:
All tickets will be sent via the email used to purchase the tickets. Please present the ticket on your mobile device or via printout to the box office.


Seating Chart: