Double Play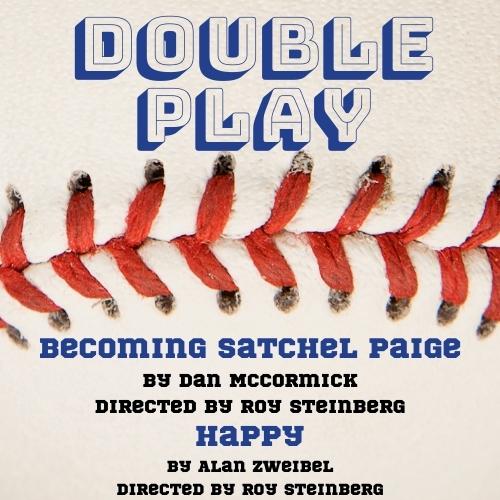 Director's Notes
Belinda Manning, writing about her father, the great John Henry "Pop" Lloyd in the catalogue for "Out from the Shadows…Into the Light" presented here in Cape May in October of 2021, wrote about, "a time when violence and terror were open strategies used to maintain the "racial" hierarchy. So Black communities did what they have always done. They created their own reality in parallel to the country that turned its back on them." In 1910 Lloyd out-hit Ty Cobb in a Cuban winter league series, .500 to.385 and his lifetime average of .368 is a point higher than Cobb's.
Cape May Stage, in a season examining fact and fiction, uses "Double Play" to tell two stories with memory as the common element in both. "Becoming Satchel Paige" tells the factual story of the great pitcher though Satchel Paige was known to be loose with the facts surrounding his life. "I've said it once and I'll say it a hundred times, I'm forty four years old" he famously responded to the question of his age. As our nation grapples with a "racial reckoning" we focus on one of the iconic players from the Negro Baseball League as he conjures his past for "a gala jubilee" to learn more about our nation and ourselves. Though Jackie Robinson broke the "color barrier" by playing for the Brooklyn Dodgers in the major leagues, Satchel Paige was the first black pitcher in the majors and at 59 years old the oldest player ever to play a major league game. Buck O'Neil said, "The stories about Paige are legendary and some of them are even true".
"Happy" is the fictional story of how an estranged father and son are reunited through a black baseball player. Once again, it is memory that informs the dynamic in that story. "Happy" is the nickname of the baseball player and the father called his son that same nickname. Times had changed enough that talent triumphed over bias though it was Paige himself who noted that "the only change is that baseball has turned Paige from a second class citizen to a second class immortal". Our culture is in the process of much needed change and theatre can shine a light on that dynamic. A white father calling his son the nickname of a black baseball player is a tiny step in that direction. My father knew Roy Campanella, the catcher for the Brooklyn Dodgers – my first name is related to that. I'm told Meryl Streep named her son, Henry Wolfe Gummer, after Henry (Hank) Aaron though I don't know that for certain.
These stories are designed to entertain and move you: we aspire to provoke discussion and educate as well. There are life lessons to be learned in playing all sports. It was Satchel Paige who said,"we don't stop playing because we get old, we get old because we stop playing…" Play ball!
Roy Steinberg
May 25th - June 26th
Wednesday - Saturday at 7:00 PM
Saturday & Sunday at 2:00 PM

Featuring back-to-back one act plays, "Double Play" starts with an exploration of the life of one of America's most iconic baseball players in the new play "Becoming Satchel Paige". After the seventh inning stretch, we present "Happy", about a baseball fan who travels to Delray Beach to find "Happy" Haliday, a favorite baseball player from his youth, and to get his signature on a baseball… but what he really gets from "Happy" is priceless.

May 25th - Preview Night
May 26th - Opening Night with After-party
Sunday, May 29th 2:00 PM- Pay-What-You-Wish

Age Guide: 12+
Running Time: 1:30 with an intermission




Double Play




Directed by Roy Steinberg



Becoming Satchel Paige


by Dan McCormick



When the legendary pitcher Satchel Paige, speaks at a festive gala, to meet and greet his fans, he is unexpectedly drawn into much deeper memories of his life, when he sees a well-worn leather satchel on a bench. Reminding him where it all started, as a dirt-poor boy in Mobile, Alabama; nearly a lifetime gone by, yet an amazing journey to Becoming Satchel Paige.

Cast:
Satchel Paige..........



Happy




by Alan Zweibel



In Happy, by Alan Zweibel ("SNL," Curb Your Enthusiasm," 700 Sundays with Billy Crystal), a baseball fan makes a pilgrimage to the home of a former baseball star who is now a janitor in Delray Beach, Florida and asks him to sign a very special ball. After a fair amount of humor and misunderstanding, the power of baseball to bond fathers, sons and men emerges.

Cast:

Satchel Paige.....
Donald.....
Happy......



Special Performances:



Friday June 10: Best Value – All tickets available at the best value price of $35
Sunday June 19: Pay-What-You-Wish Rush tickets – All available tickets on the day of the performance can be purchased for whatever price you wish to pay. Starts 1 hour before curtain, cash only.

Safety policy:
For the safety of our actors, crew, staff and patrons, Cape May Stage requires proof of vaccination in order to attend performances. Please show your proof of vaccination to the Box Office when you present your ticket. Masks will also be required for all patrons at all times while in the playhouse. For more information on our Commitment to Safety Click here.

Tickets:
All tickets will be sent via the email used to purchase the tickets. Please present the ticket on your mobile device or via printout to the box office

Seating Chart:




Bios:



Donald Bio

Happy Bio

Dan McCormick (Playwright - Becoming Satchel Paige) is the acclaimed playwright of The Violin, that received its World Premiere Off-Broadway run at 59E59 Theatre in NYC, featuring Tony Award Nominee Robert LuPone in the lead role of Gio. Dan's play Homeless and How We Got That Way was produced for its Midwest Premiere by The Detroit Repertory Theatre, with both actors being nominated for Best Actor in the Oscar Wilde Awards. The Roust Theatre Company received a $25,000 grant from The Arcus Foundation to produce the NYC Premiere of Homeless and How We Got That Way. Dan's play The Morons was also nominated for Best Production in The First Irish Festival of New Plays in NYC. Dan was also a finalist in The Samuel French Festival with his one-act play Accidental Encounter. His award winning 9/11 Play, On The Day and The Days That Followed, has been performed at several high schools, grade schools and Universities around the country. And it was also accepted into the National 9/11 Memorial and Museum's Artist Registry.

Alan Zweibel (Playwright - Happy) is an original Saturday Night Live writer and has won five Emmy Awards for his work in television, which also includes It's Garry Shandling's Show (which he co-created and produced) and Curb Your Enthusiasm. A frequent guest on all of the late night talk shows, Alan's theatrical contributions include his collaboration with Billy Crystal on the Tony Award winning play 700 Sundays, Martin Short's Broadway hit Fame Becomes Me, and six off- Broadway plays including Bunny Bunny - Gilda Radner: A Sort of Romantic Comedy which he adapted from his best-selling book. The co-writer of the screenplays for the films Dragnet, North, and The Story of Us, Alan received an honorary PhD from the State University of New York and because of the diversity of his body of work, in 2010 the Writers Guild of America, East gave him a Lifetime Achievement Award. But the production that Alan is most proud of is the one he co-created with his wife Robin, their three children and five grandchildren.

Roy Steinberg (Director) has directed classical and contemporary plays as well as world premieres all over the United States. He directed Ann Jackson, Kim Hunter, and Alvin Epstein in The Madwoman of Chaillot at the Neighborhood Playhouse in New York. As a member of Circle Repertory Company, he developed and directed The Marriage Fool with Lynn Cohen and Farley Granger. His production of Othello played at the Intar Theatre on Theatre Row in New York and he directed Joan Copeland in a new play called Second Summer for the Colleagues Theatre Company. He was the Artistic Director of Theatre Matrix in New York and the John Michael Kohler Arts Center in Wisconsin. He has directed touring companies of bilingual productions of Moliere's The Miser and The Bourgeois Gentleman. As a Guest Artist he has directed college students throughout our nation in plays like American Buffalo, Our Town, The Importance of Being Earnest, and A Midsummer Night's Dream. Mr. Steinberg has also produced and directed film and television including Guiding Light, One Life To Live, Days Of Our Lives, Forensic Files, and Scandalous Art. He has four Emmy nominations for his work. He directed Jo Beth Williams in Life In General on strike.tv, which won five Spirit Awards. At Cape May Stage, Mr. Steinberg has directed Souvenir, Moon Over Buffalo, Blithe Spirit, How to Make a Rope Swing, Say Goodnight Gracie, Social Security, Visiting Mr. Green, Proof, Class, Steel Magnolias, The Understudy, I Hate Hamlet, Boeing Boeing, Happy Days, Freud's Last Session, The Santaland Diaries, The Woolgatherer, Mistakes Were Made, This Wonderful Life, The Search for Signs of Intelligent Life in the Universe, Dead Man's Cell Phone, Disgraced, Buyer and Cellar, The Tale of the Allergist's Wife, The Gin Game, Outside Mullingar, The Ultimate Christmas Show, Chapter Two, The Shuck, An Actor's Carol, Heisenberg, Sylvia, Sidekicked and most recently Last of the Red Hot Lovers. Roy Steinberg has an MFA from the Yale School of Drama. He also functions as the Producing Artistic Director. His proudest production is his daughter, Alexa Catherine.

Spencer Potter (Set Design) is a Professor of Design and freelance costume/set designer working between the Western and Mid-Atlantic regions. Spencer's design credits at Cape May Stage include: Ultimate Christmas Story...Abridged!, Outside Mullingar, Billy Bishop Goes to War, Buyer and Cellar, The Whipping Man, The Search for Signs of Intelligent Life, Red Hot Patriot, Blithe Spirit, How to Make a Rope Swing, Erma Bombeck: At Wit's End, An Actor's Carol, Heisenberg, Sidekicked, Murder for Two: The Holiday Edition, Ann, Last of the Red Hot Lovers, Adopt a Sailor and assistant designer for Time Stands Still. Other design credits include: Costumes- The Roads to Home, Die Fledermaus, The Odd Couple, The 25th Annual Putnam County Spelling Bee. Scenery - Singin' in The Rain, Noises Off, And Then There Were None, Tons of Money, The Woman in Black and Steel Magnolias. In the past, Spencer has also worked as Cape May Stage's Production Manager/Technical Director and as the Resident Intern Program Coordinator.

Beth Hillebrecht (Costume Design) is thrilled to be joining The Cape May Stage for the 2022 season. She completed her internship at The Broadway Theatre of Pitman and has gone on to design several notable plays including The Producers, Chicago and the musical version of Titanic, to name a few. Now on her 28th show, Beth Hillebrecht is a welcome addition to the Cape May Stage family. Her accomplishments can be found at Bethhillebrechtcostume.com.

Zach Weeks (Lighting Design) is excited to be designing at Cape May Stage. Zach is a New York based designer whose designs have been seen all over New York. Selected credits include Peter and the Starcatcher, Little Shop of Horrors, You're are a good man Charlie Brown, The Tempest, Little Prince (Epic Players), Pushkin (Sheen Center), Fall of the House of Usher (The New School). Regional Credits include Brigadoon & Love and the Law (Muhlenberg College), The Producers, Into the Woods, Hairspray, & Legally Blonde (White Plains PAC). Zach has worked as an Assistant Designer at Carnegie Hall, New York City Center, Plaza Hotel, and Theatre Row just to name a few. To learn more about Zach or to see more of his work please go to zwdesigns.net

Hao Bai (Sound Designer), a multidisciplinary designer in lighting, sound, and video projection for live and virtual performances. Hao's work has been seen internationally at Asia Culture Center (South Korea), WuZhen Festival (China), in the states at CAC (Cincinnati), Stanford, Jones Hall (Houston), Woolly Mammoth Theatre (DC), and in New York at The Public Theatre, NYU Skirball, The Shed, Bushwick Starr, La MaMa, JACK, Performance Space New York, New Stage Theatre, 59E59, A.R.T/New York Theatres, 14 Street Y, BAAD!, Stella Adler, The Performing Garage, The Gallery Players, The Tank, etc. Recent: Virtual: Final Boarding Call (Ma-Yi Theater+WP Theater); Nocturne in 1200s (Ping Chong). Lighting: Waterboy and the Mighty World (Bushwick Starr & The Public Theatre). Projection: Electronic City (NYIT Awards); Chronicle X (The Shed). Production Design: Where We Belong (Woolly Mammoth Theatre). https://www.haobaidesign.com