Broadway to Italy: Anthony Nunziata in Concert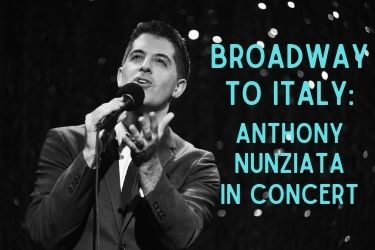 Enjoy these amazing performances by Anthony Nunziata



Monday, September 13 at the Cape May Convention Hall
Dubbed "America's next romantic singing sensation," celebrated tenor Anthony Nunziata is back by popular demand as he returns to Cape May with his "Broadway to Italy" concert. Anthony will bring his soulful voice to classic Broadway songs, Italian arias as well music from jazz, pop standards, and his timeless original music. Get ready to be swept away by this young man's warm and soaring tenor voice as well his charming & witty repartee with his audience.
Cape May Stage's Broadway Series is back and bigger than ever!
For the 2021 season, we are moving the Broadway Series to the Cape May Convention Hall and using their state-of-the-art audio equipment to present incredible performances.


Seating options:
*All tickets include an invitation to the after-party with the performer*

Off-Off-Broadway - $750 for table, $85 for individual seat
Comfortable cabaret style seating
Advanced seating
Times Square General Admission - $50
Stadium style general admission seating

Bio:

Anthony has performed over 400 concerts over the past few years headlining major performing arts centers, theaters, symphony concert halls and private events across the country and around the world. The Brooklyn-born, Nashville-based singer and entertainer is hailed by BroadwayWorld as "an explosion of love and entertainment." Anthony recently co-headlined Carnegie Hall for two sold-out concerts with the New York Pops Symphony Orchestra and headlined Jazz at Lincoln Center. Anthony recently appeared in the Netflix film "The Last Laugh" opposite Chevy Chase and Richard Dreyfuss.

In February 2020 Anthony released his critically-acclaimed solo recording "The Love Album" featuring thrilling jazz/pop-infused renditions of classics including "Can't Take My Eyes Off You," "Feeling Good" and "Somewhere," paired with timeless originals including "Will You Be My Everyday?" and "I Found a Home." His debut Christmas Album "Together for Christmas" will be released in November 2021. Both albums will be available for purchase at venues. For more, visit www.AnthonyNunziata.com. Follow Anthony on facebook and instagram @nunzant.