The New York Rat Pack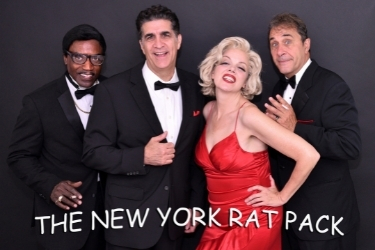 The New York Rat Pack reviews:
"The Performers not only sing with spot-on-voices, but their swagger, look, and banter are tops as they kid with a nimble, comedic dynamic"
- Associated Press
"Audiences will be entranced by not only the performers' vocal interpretations, but also how perfectly they embody the Rat Pack's soul and spirit."
- Critic Rave
Monday, August 16 at the Cape May Convention Hall

Frank Sinatra, Sammy Davis, Jr., and Dean Martin made history
when they teamed up in the 1960s to form one of the most famous
groups of all time. Take a trip back through time to when The Rat
Pack ruled New York with classics like: "That's Amore;" "New York,
New York;" "My Way;" "Mr. Bojangles;" and "One for My Baby,"
among others. Jerry Costanza (Sinatra), Joe Perce (Martin), and Larry
Hines (Davis, Jr.) are all award-winning impersonators who have
made the NYC Rat Pack as timeless as their actual counterparts.
Broadway veteran Louisa Bradshaw makes a special guest appearance
as the unforgettable Marilyn Monroe, delivering flirtatious renditions
of "Diamonds Are a Girl's Best Friend," "You've Got to Choose
Me," and other Marilyn Monroe Classics.
Cape May Stage's Broadway Series is back and bigger than ever!
For the 2021 season, we are moving the Broadway Series to the Cape May Convention Hall and using their state-of-the-art audio equipment to present incredible performances.



Seating options:





Times Square General Admission - $50



Stadium style general admission seating