Junior Mack Sings The Blues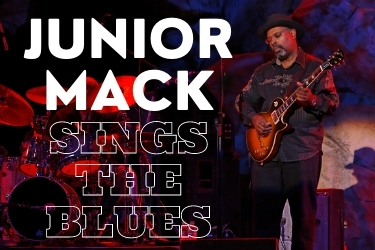 Enjoy some of Junior Mack's performances with the Jaimoe's Jasssz Band.
Monday, July 26 at the Cape May Convention Hall

Exploring The Blues.... And The Soulful Truth...... A self-taught blues-rock musician and soulful vocalist, Junior Mack was influenced by countless blues, rock and gospel musicians and singers. He's combined years of listening and learning into one unique style and a founding member of the Grammy Nominated Heritage Blues Orchestra. His style of music has been enthusiastically received by audiences within the United States, Europe and as far away as India. Junior has sat in or worked with numerous artists including The Allman Brothers Band, Warren Haynes, Derek Trucks, The Marshall Tucker Band, Honeyboy Edwards and Cyndi Lauper among others.
Cape May Stage's Broadway Series is back and bigger than ever!
For the 2021 season, we are moving the Broadway Series to the Cape May Convention Hall and using their state-of-the-art audio equipment to present incredible performances.
Seating options:
Off-Off-Broadway - $750 for table, $85 for individual seat
Comfortable cabaret style seating
Advanced seating
Times Square General Admission - $50
Stadium style general admission seating