Quarantine with Constantine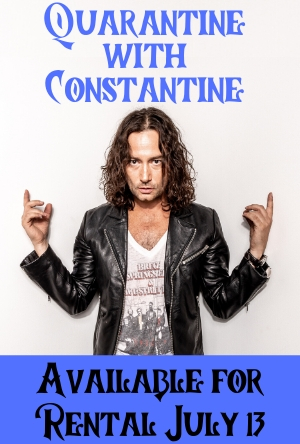 "It cannot be denied that Constantine Maroulis has one of the great voices, one so rare and unbelievable that it could make an atheist believe in god, by simple virtue of the idea that the only way a man could have a voice like this would be divine intervention."

- Stephen Mosher, BroadwayWorld
Check out this medly of songs from Constantine's Tony Nominated performance in "Rock of Ages"
"Mr. Maroulis' voice is a gorgeous, crystal-clear, unwavering, bright tenor instrument that will blow you away."

- Houston Chronicle
"It's really a perfect performance... Long may he rock."

- The Chicago Tribune
Now available soon for 7 day rental!
Quarantine with Constantine from Cape May Stage on Vimeo.

Please use
to purchase the rental.

Using the Buy Tickets button will cause a delay in rental

Two-time Tony nominated Broadway star (Rock of Ages, Spring Awakening) and American Idol legend takes us on an intimate journey of musical influences from Andrew Lloyd Webber to Led Zeppelin including selections from his just released solo album Until I'm Wanted.
For the first time ever, Cape May Stage presents the Broadway Series as virtual events to enjoy from home! All the artists in our Broadway Series have crafted special performances specifically for Cape May Stage's Broadway Series!
Quarantine with Constantine is available for 7 day rental from July 13 - August 31!
Constantine Maroulis is an accomplished actor, producer, singer and songwriter best known for his Tony-nominated performance in Rock of Ages and his epic run as a finalist during the heyday of American Idol His new original album, Until I'm Wanted, is expected to be released soon.
Constantine has been actively touring worldwide, contributing to projects that include Scott Bradlee's acclaimed Postmodern Jukebox, RockTopia, and Adler's Appetite featuring legendary Guns N Roses drummer Steven Adler. Constantine is also developing a number of creative projects in TV and film, including Tony nominated work as a producer of Broadway's revival of Deaf West's Spring Awakening, as well as recently releasing the singles, "All About You", "Here I Come" and "She's Just Rock N Roll," from his upcoming album. Additional television credits include, Amazon's Golden Globe winner, Mozart in the Jungle, Madame Secretary, Law & Order SVU, The Tonight Show, Dancing With The Stars, America's Got Talent, The Today Show and returning to American Idol as a mentor in season 15. Constantine will be starring in the feature film directed by Roger Spottiswoode, Either Side of Midnight. Constantine is a graduate of the Boston Conservatory at Berklee College of Music. For additional information and socials please visit ConstantineMaroulis.com