Marissa Mulder - Swinging on a Star Past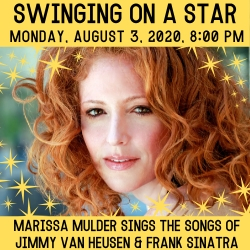 Check out some of Marrisa Mulder's amazing performances below!

"Far and away the season's best cabaret show, everything the genre can be but almost never is."
- The New York Times (reviewing "Tom...in his words, the songs of Tom Waits")

"The rising cabaret singer wove passages from Monroe's diaries and 20 songs into a compelling portrait of the star in a confessional mood. A remarkable performance."
- The New York Times (reviewing "Marilyn in Fragments")
Monday, August 3, 2020 at 8:00 PM


Come join award-winning songstress Marissa Mulder with her pianist Bill Zeffiro as she puts her stamp on some of Jimmy Van Heusen's most prolific songs as well as some of his lesser known gems. Jimmy Van Heusen was a four time Oscar winner. He was Frank Sinatra''s best buddy and wrote more songs recorded by Sinatra than any other composer. He started writing songs when he was just a kid growing up in Syracuse, NY.

In fact, some of his biggest hits like " Imagination" and " All The Way" he had composed in his head when he was just eleven years old! He wrote over 800 songs during his lifetime, songs like "Come Fly With Me", " Moonlight Becomes You", "All The Way" and many more. He also flew his own airplanes and caused a heck of a lot of mischief too. Come hear the story and the work of a brilliant man. Van Heusen's songs are poetic and timeless, they feel as tho they were written this morning.
Cape May Stage's Broadway Series features special one-night-only events that often sell out quickly and are not to be missed! All ticket purchases include an invitation to the after-party immediately following the performance where you can meet the performer.


Also consider purchasing our Broadway Series package to attend all four performances and save 15%! The Broaday Series Package allows you to pick the same seats for all four Broadway Series shows and attend each after-party where you can meet the performer, all for $155.00 (regularly $183.00).
Click here to purchase the 2020 Broadway Series Package

Marissa Mulder is a Singer/Actress and Syracuse Nativehas who has performed shows at the Carlyle, 54 Below, Birdland, The Triad and Joe's Pub. She is the recipient of two MAC awards, for Major Artist and Recording Of The Year for her show "Tom...in his words, the songs of Tom Waits", which the New York Times called "far and away the season's best cabaret show, everything the genre can be but almost never is." She is the recipient of the Julie Wilson and Noel Coward Award. Her show "Marilyn in Fragments" an homage to Marilyn Monroe received a rave review in the New York Times that said "The rising cabaret singer wove passages from Monroe's diaries and 20 songs into a compelling portrait of the star in a confessional mood. A remarkable performance." She was a guest on Piano Jazz on NPR. TimeOut New York calls her "One of the cabaret world's biggest breakout successes of the past five years." She has a brand new album out "Two Tickets Left"which is Nominated for A MAC award for Major Recording of the year, Available On Itunes and Cdbaby. For more information about Marissa visit her website. www.marissamulder.com