Storm Large Past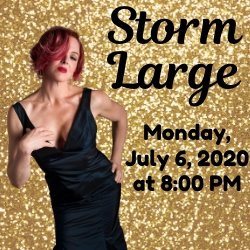 Check out some of Storm Large's amazing performances below!
"She is an intoxicating and unmissable cocktail of power and vulnerability."

- The Times (UK)

"Large's voice is a Swiss army knife, and she spent her show slicing through the limits of the Great American
Songbook. She touched on jazz, rock, show tunes and the orchestra's classical presence, no genre out of reach of her
flawless vibrato."
- The Oregonian
"Lugubrious, lingering on every syllable, Large's voice was velvet...Large's cabaret act is about variety -- perfect,
usually slow and luxurious, renditions of songs, mixed with edgy humor and creative twisting of tunes."

- Kalamazoo Gazette
Monday, July 6, 2020 at 8:00 PM

Storm Large makes her Cape May Stage debut for one-night only!

More information about this show will be available in early 2020.
Cape May Stage's Broadway Series features special one-night-only events that often sell out quickly and are not to be missed! All ticket purchases include an invitation to the after-party immediately following the performance where you can meet the performer.


Also consider purchasing our Broadway Series package to attend all four performances and save 15%! The Broaday Series Package allows you to pick the same seats for all four Broadway Series shows and attend each after-party where you can meet the performer, all for $155.00 (regularly $183.00).
Click here to purchase the 2020 Broadway Series Package
Storm Large: musician, actor, playwright, author, awesome. She shot to national prominence in 2006 as a finalist on the CBS show Rock Star: Supernova, where despite having been eliminated in the week before the finale, Storm built a fan base that follows her around the world to this day.
In the 18-19 season, Storm performs her one-woman autobiographical musical memoir Crazy Enough at Portland Center Stage and La Jolla Music Society celebrating the show's ten-year anniversary. Highlights of the season include debuts with members of the Chicago Symphony Orchestra, the Seattle Symphony, the Maryland Symphony, and the Philly Pops, as well as return engagements with the Houston Symphony, New York Pops, and the Louisville Orchestra, with whom she recorded the 2017 album All In. Storm continues to tour concert halls across the country with her band Le Bonheur and as a special guest on Michael Feinstein's Shaken & Stirred tour.
Storm made her debut as guest vocalist with the band Pink Martini in April 2011, singing four sold-out concerts with the National Symphony Orchestra at the Kennedy Center in Washington, DC. She continues to perform with the band, touring nationally and internationally, and featured on their CD Get Happy. Storm has also sung with Grammy winner k.d. lang, pianist Kirill Gerstein, punk rocker John Doe, Rufus Wainwright, and Rock and Roll Hall of Famer George Clinton.
Storm's musical memoir, Crazy Enough, played to packed houses in 2009 during its unprecedented 21-week sold out run. Her memoir, Crazy Enough, was released by Simon and Schuster in 2012, named Oprah's Book of the Week, and awarded the 2013 Oregon Book Award for Creative Nonfiction.