2020 Talk-Back Night Package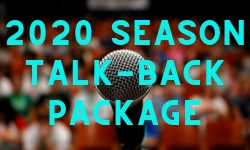 For every mainstage show, one performance is immediately followed by a Talk-Back with the cast, crew, and creative team. These talk-backs are amazing opportunities to learn more about the show and discover fascinating information about the creative process.

This package allows you to attend all talk-back performances at the discounted price of $196.00 (regularly $222.50).
2020 Talk-Back Night Performance Schedule:


Wednesday, June 10, 2020 / 8:00 pm


Wednesday, July 22, 2020 / 8:00 pm


Wednesday, September 9, 2020 / 8:00 pm


Wednesday, October 21, 2020 / 7:30 pm


Thursday, December 3, 2020 / 7:30 pm