2020 Preview Night Package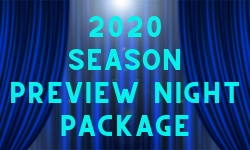 After weeks of rehearsal, the preview performance is the first time all of the theatrical elements combine together in front of an audience. The preview allows you to see a show that is still technically "in development" as we prepare for opening night.
The Preview Night Package is our most cost effective way to see every mainstage show of the 2020 season. Enjoy the same seats for every show and admission to all four preview night performances for just $108 (regularly $118).
2020 Mainstage Preview Night Performance Schedule:


Wednesday, May 20, 2020 / 8:00 pm


Wednesday, July 1, 2020 / 8:00 pm


Wednesday, August 12, 2020 / 8:00 pm


Wednesday, September 30, 2020 / 7:30 pm


Wednesday, November 18, 2020 / 7:30 pm