Adopt a Sailor - Cancelled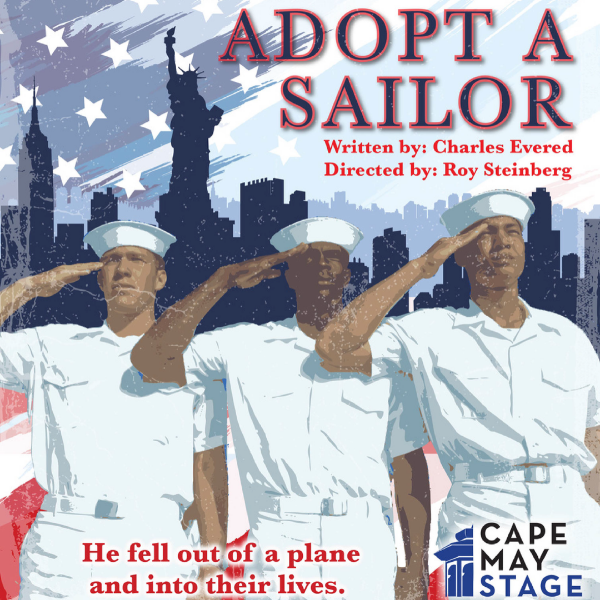 Written by Charles Evered
Directed by Roy Steinberg
June 3 - June 26

Wednesday - Saturday at 8:00PM
Saturday & Sunday 3:00PM

Adopt a Sailor is about Patricia and Richard, a successful and artistic couple from New York City who inadvertently "adopt a sailor" during Fleet Week in New York City, and the young man from Turkeyscratch, Arkansas who changes their lives forever.
Age Guide: 12+
June 3rd - Preview Night
June 4th - Official Opening with Pre-show Soiree and After-Party
June 6th Evening Performance - Best Value Performance

(All tickets at best value pricing)


June 10th - Cast & Crew Talk-Back
June 13th Matinee - Pay-What-You-Wish
(Pay-What-You-Wish is only avaliable 1 hour prior to show time, at the theatre, and is a first come first serve basis. Doors open up 1 hour before the show. Patrons pick whatever seat is available and Pay-What-You Wish. You must have cash or check only. If you would like to see the show on this date and don't want to run the risk if it being sold out, you may still purchsase a ticket at a regular price by calling the box office or purchasing online.)


All Saturday Matinees

- Best Value Performance

(All tickets at best value pricing)
Ways to Save!

Before purchasing your ticket, consider these packages and passports to enjoy Cape May Stage in the most cost effective way:



Packages:




Our 2020 Season Opening Night 5 Show Package allows you to enjoy the same seats for every show, admission to all five opening night performances and an invitation to each show's after party for just $250.00 (regularly $272.50).
Our 2020 Season Opening Night 3 Show Package allows you to enjoy admission to your 3 selected opening night performances and an invitation to each show's after party for just $150.00 (regularly $163.50).
The 2020 Season Preview Night Package is our most cost effective way to see every mainstage show of the 2020 season. Enjoy the same seats for all five preview night performances for just $135.00 (regularly $147.50).
The 2020 Season Talk-Back Package allows you to attend all performances in the 2020 Season that are followed by talk-backs. These talk-backs are amazing opportunities to learn more about the show and discover fascinating information about the creative process. This package allows you to attend all talk-back performances at the discounted price of $196.00 (regularly $222.50).
Season Passports:

Our Season Passports allow for a more flexible way to enjoy Cape May Stage. Pick the amount of shows you would like to see in the 2020 season and you can pick your performances and seats whenever you are ready.
Additional Passport Benefits:
Save 10-12% off regular ticket prices.

Complimentary exchanges. When plans change contact the Box Office to make quick ticket exchanges to a date that works for you with no exchange fees.

Choose your seats for the 2020 season all at once or on a show by show basis.

Receive a subscription to "Stage Secrets" our monthly behind-the-scenes email newsletter.

Passports are flexible! A 5-show passport gives you 5 stamps, while a 3-show passport gives you 3 stamps. Use your stamps however you wish, whether it is one stamp per show or all of your stamps for one performance... it is up to you!


Cast Biographies:


Roy Steinberg (Richard) has played the title roles in Shakespeare's "Macbeth", "King Lear" and "Richard III". He also played opposite Academy Award winner Christopher Walken and Tony Award winner Tony Shaloub in "Measure for Measure" directed by John Madden who directed "Shakespeare in Love". He has performed in "A Midsummer Night's Dream", "Romeo and Juliet", "Hamlet", "Henry IV – Parts One and Two" as well as "The Tempest" and "Julius Caesar" (directed by Alvin Epstein of the Guthrie Theatre). Mr. Steinberg played opposite Academy Award winner William Hurt in "The Rimers of Eldritch" at the International Drama Festival in Ireland and made his Broadway debut in the Tony nominated play "Wings" with Tony Award winner Constance Cummings. He has performed at the Kennedy Center, New York Public Theatre, Santa Fe Festival Theatre and Yale Repertory. Roy Steinberg was last seen at Cape May Stage as King Henry in "The Lion in Winter".He has been seen at Cape May Stage in "Barefoot in the Park", "Lend Me A Tenor" and "Red". He's thrilled to be playing opposite his real life wife, Marlena Lustik. MFA Yale School of Drama


Marlena Lustik (Patricia) made her debut on Broadway in Foxy with Bert Lahr. Other Broadway credits include Pousse Café and Days in the Trees. Off Broadway she appeared in the original award-winning productions of The Effect of Gamma Rays on Man-In-The-Moon Marigolds and One Flew Over the Cuckoo's Nest. Regional theatre credits include The Long Wharf Theatre, The Goodspeed Opera House and the Kennedy Center working with artists like Kevin Spacey, David Straithorn, Peter Sellars, John Tillinger, Sada Thompson, Jan Maxwell and Colleen Dewhurst. She has done numerous commercials, and was nominated for a CLIO. Television and film credits include Rodeo Red and the Runaway, With All Deliberate Speed, roles on Another World and One Life to Live and the cult films My Brother Has Problems and Times Square. In previous seasons she has played Eleanor of Aquitaine in The Lion in Winter, Aoife Muldoon in Outside Mullingar, Mrs. Banks in Barefoot in the Park, Mrs. Gottlieb in Dead Man's Cell Phone, Silda in Other Desert Cities, Julia in Lend Me a Tenor, Berthe in Boeing Boeing, Lillian in I Hate Hamlet, and Ouiser in Steel Magnolias. Thrilled as always to be on stage with Roy Steinberg and thanks to my daughter Alexa for attempting to keep me sane when I am acting.


Samuel Emerson Krapels (Sailor) is thrilled to be making his Cape May Stage debut in Adopt A Sailor. Favorite credits include Much Ado About Nothing with the Stella Adler Studio of Acting and Stalling with the Experimental Theatre Wing and Rogue Theatre Festival. He also recently directed Papercut with the Best Intentions Theater Company. When he's not doing these things, he is usually writing or taking an inordinately long walk. Sam is a graduate of New York University's Tisch School of the Arts.


Crew Biographies:


Charles Evered (Playwright) took his undergraduate degree from Rutgers-Newark and an MFA from Yale University. Mr. Evered has won several awards for his writing including The Crawford Award, The Berrilla Kerr Award, The Alfred P. Sloan Fellowship at The Manhattan Theatre Club, The Chesterfield/Amblin Fellowship, The Edward Albee/William Flanagan Fellowship, The Bert Linder Fellowship and The Lucas Artist Fellowship at the Millay Colony. His plays include Running Funny, Billy and Dago, The Size of the World, The Shoreham, Adopt a Sailor, Celadine, and Class (which premiered at Cape May Stage). He has written screenplays and teleplays for studios such as Universal Pictures, NBC, DreamWorks, and Paramount Pictures. The double episode he wrote for the series "Monk," titled "Mr. Monk and the Leper"--starring Emmy winner Tony Shalhoub was one of the highest rated episodes of the series. Mr. Evered has directed the feature films "Adopt a Sailor," starring Peter Coyote and Bebe Neuwirth as well as "A Thousand Cuts," which was nominated for a Saturn Award and starred Academy Award nominee Michael O'Keefe. Mr. Evered is also the co-founder of the Evered House, near Joshua Tree National Park in Southern California--- an artist residency for military veterans and those who serve in conflict zones, dedicated to his father who served in World War II. Mr. Evered is thrilled to be working with Roy and Cape May Stage again, in his home state of New Jersey.
Roy Steinberg (Director) has directed classical and contemporary plays as well as world premieres all over the United States. He directed Ann Jackson, Kim Hunter, and Alvin Epstein in The Madwoman of Chaillot at the Neighborhood Playhouse in New York. As a member of Circle Repertory Company, he developed and directed The Marriage Fool with Lynn Cohen and Farley Granger. His production of Othello played at the Intar Theatre on Theatre Row in New York and he directed Joan Copeland in a new play called Second Summer for the Colleagues Theatre Company. He was the Artistic Director of Theatre Matrix in New York and the John Michael Kohler Arts Center in Wisconsin. He has directed touring companies of bilingual productions of Moliere's The Miser and The Bourgeois Gentleman. As a Guest Artist he has directed college students throughout our nation in plays like American Buffalo, Our Town, The Importance of Being Earnest, and A Midsummer Night's Dream. Mr. Steinberg has also produced and directed film and television including Guiding Light, One Life To Live, Days Of Our Lives, Forensic Files, and Scandalous Art. He has four Emmy nominations for his work. He directed Jo Beth Williams in Life In General on strike.tv, which won five Spirit Awards. At Cape May Stage, Mr. Steinberg has directed Souvenir, Moon Over Buffalo, Blithe Spirit, How to Make a Rope Swing, Say Goodnight Gracie, Social Security, Visiting Mr. Green, Proof, Class, Steel Magnolias, The Understudy, I Hate Hamlet, Boeing Boeing, Happy Days, Freud's Last Session, The Santaland Diaries, The Woolgatherer, Mistakes Were Made, This Wonderful Life, The Search for Signs of Intelligent Life in the Universe, Dead Man's Cell Phone, Disgraced, Buyer and Cellar, The Tale of the Allergist's Wife, The Gin Game, Outside Mullingar, and The Ultimate Christmas Show. Most recently, Mr. Steinberg directed Chapter Two, the world premiere of The Shuck, and the East Coast premiere of An Actor's Carol, Heisenberg, Sylvia, Sidekicked and this season's Last of the Red Hot Lovers, Guilty Pleasures, Shirley Valentine and 25 Decembers. Roy Steinberg has an MFA from the Yale School of Drama. He also functions as the Producing Artistic Director. His proudest production is his daughter, Alexa Catherine.


Amy Hadam (Production Stage Manager) is so thrilled to be back for her fourth season! Past Cape May Stage credits include: The Whipping Man, Sex with Strangers, Barefoot in the Park, Disgraced, Buyer & Cellar, One Christmas Carol, Billy Bishop Goes to War, The Tale of the Allergist's Wife, The Gin Game, Outside Mullingar, The Ultimate Christmas Show, Erma Bombeck: At Wit's End, Chapter Two, The Lion in Winter, The Shuck, and An Actor's Carol. She is also the Education Director here at Cape May Stage. Amy has also been the Stage Manager for Dreamcatcher Repertory Theatre (Summit, NJ) since 2013; recent credits include Continuing the Conversation, What Stays, Things Being What They Are, and Shipwrecked! An Entertainment: The Adventures of Louis de Rougemont (As Told By Himself). Other credits include: 21: The Musical (NYC), Jekyll & Hyde and Spamalot at Surflight Theatre (Beach Haven, NJ), A Piece of My Heart and Janey Miller's World Tour at Speranza Theatre Company (Jersey City, NJ), Miss Witherspoon and The Further Adventures of Hedda Gabler at The Theater Project (Maplewood, NJ), and Talking to Westfield and At Liberty Hall at Premiere Stages (Union, NJ). Amy is a proud member of Actors' Equity Association.


Zach Weeks (He, Him, His) (Lighting Design) is excited to be designing at Cape May Stage. Zach is a New York based designer whose designs have been seen all over New York. Selected credits include Peter and the Starcatcher, Little Shop of Horrors, You're are a good man Charlie Brown, The Tempest, Little Prince (Epic Players), Pushkin (Sheen Center), Fall of the House of Usher (The New School). Regional Credits include Brigadoon & Love and the Law (Muhlenberg College), The Producers, Into the Woods, Hairspray, & Legally Blonde (White Plains PAC). Zach has worked as an Assistant Designer at Carnegie Hall, New York City Center, Plaza Hotel, and Theatre Row just to name a few. To learn more about Zach or to see more of his work please go to zwdesigns.net.

Spencer Potter (Set Design) is a Professor of Design and freelance costume/set designer working between the Western and Mid-Atlantic regions. Spencer's design credits at Cape May Stage include: Ultimate Christmas Story...Abridged! Outside Mullingar, Billy Bishop Goes to War, Buyer and Cellar, The Whipping Man, The Search for Signs of Intelligent Life, Red Hot Patriot, Blithe Spirit, How to Make a Rope Swing, Erma Bombeck: At Wit's End, An Actor's Carol, Heisenberg, Sidekicked, Murder for Two: Holiday Edition and assistant designer for Time Stands Still. Other design credits include: Costumes- The Roads to Home, Die Fledermaus, The Odd Couple, The 25th Annual Putnam County Spelling Bee. Scenery - Singin' in The Rain, Noises Off, And Then There Were None, Tons of Money, The Woman in Black and Steel Magnolias. In the past, Spencer has also worked as Cape May Stage's Production Manager/Technical Director and as the Resident Intern Program Coordinator. Many thanks to Roy, Marlena, and Michael.
Asia Twi McCallum (Sound Design) is a sound designer/engineer raised in Baltimore, MD currently living in New York. Recent design credits include Kansas City Rep, Long Wharf Theater, TheatreSquared, and off-Broadway credits include New York Theater Workshop and WP Theatre. Twi is super thankful to Cape May Stage for believing her, every opportunity is a dream come true! Website: www.twibackstage.me.

Leah Nadolski
(
Props Master) is happy to be working at Cape May Stage. She graduated from DeSales University in 2017 with her degree in Theatre Tech and Design with a concentration on set design and props. She also interned at the Arden theatre as the props intern. She would like to thank her family and friends for their love and support.







Actors' Equity Association (AEA)
was founded in 1913 as the first of the American actors' unions. Equity's mission is to advance, promote, and foster the art of live theatre as an essential component of our society. Today, Equity represents more than 40,000 actors, singers, dancers, and stage managers working in hundreds of theatres across the United States. Equity members are dedicated to working in the theatre as a profession, upholding the highest artistic standards. Equity negotiates wages and working conditions and provides a wide range of benefits including health and pension plans for its members. Through its agreement with Equity, this theatre has committed to the fair treatment of the actors and stage managers employed in this production. AEA is a member of the AFL-CIO and is affiliated with FIA, an international organization of performing arts unions. For more information, visit
www.actorsequity.org