2019 Kid's Camp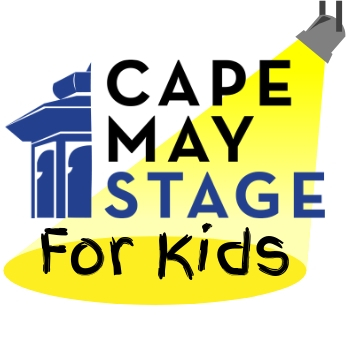 Ways to save:
Register before May 1st to receive special early bird pricing!
Bundle more than one class together for additional savings!
Meet our Education Coordinator Amy Hadam!
Amy accepts her Award of Excellence from the N.J. Theatre Alliance for her contribution to Cape May Stage's Education Department
Amy Hadam is Cape May Stage's Production Stage Manager, but she has been teaching dance and theatre for over a decade. Her love for theatre education began in high school when she participated in a program called Social Issues Theatre where she and her classmates toured an anti-bullying piece to the elementary schools in her school district. Amy attended Kean University where she earned her B.A. in Theatre Education with a K-12 Teacher Certification for the State of New Jersey. After graduating, Amy has taught for small-scale community programs such as Kinetic Kids in Verona, The Club at Woodbridge, and Pucci Performing Art Centre as well as professional theatre companies such as George Street Playhouse and Dreamcatcher Repertory Theatre. Amy was also the choreographer for Pequannock Township High School's productions of Godspell, Legally Blonde, and 25th Annual Putnam County Spelling Bee. She is so excited to have been given the opportunity to develop the education program here at Cape May Stage!


Amy and the Drama Level 1 class performing their adaptation of "Where The Wild Things Are"




Amy's Education Philosophies:



"Art Education is an opportunity to nurture children to find truth through imagination, effort, collaboration, and cultural literacy."

Cape May Stage has always strived to produce thought-provoking theatre to the Cape May community; Cape May Stage for Kids is striving to create original thought-provoking theatre and inspire the next generation of artists.

We are doing so by:

Welcoming all students to use their imaginations and accept all creative input

Encouraging ensemble building and team work

Challenging students to think critically about themes and topics and express their understanding through multiple

Creative approaches

Implementing discipline, patience, and open-mindedness that comes with studying an art form
Come grow and create with us!
—Amy Hadam
Cape May Stage For Kids is gearing up for another amazing and fun-filled summer! Our 2019 Kid's Camp features 3 sessions designed for different age groups and with different focuses: Musical Theatre and Creative Drama.
Let their creativity soar this summer!
Thanks to a grant from the OceanFirst Foundation, we are proud to offer scholarships to help all children be a star! Click here for more information


2019 Kid's Camp sessions:

Creative Drama: Level 2
"Props-To-Plays"
Tuesday July 16 - July 19
(9:00 am - 3:00 pm each day)

Level 2 age recomendation: Grades 5 - 8
Inspiration for a story or a play can come from anywhere... even a simple prop! Through creative exercises and brainstorming, the students will use a prop as the inspiration for a new and original play. The students will be guided through a series of exercises that focuses on plot analysis, character development, and playwrighting. These exercises will help develop the script that the ensemble will learn together.
The students will then audition, be cast, and directed in their new pieces. Final elements of the spectacle such as costume pieces and props will be created to enhance the storytelling.
The final product will be presented on Friday at 2:30 pm. Admission is free for family members and friends of the students!

Musical Theatre: Level 1
"Storytelling through song and dance!"
Tuesday July 23 - July 26
(9:00 am - 3:00 pm each day)

Level 1 age recomendation: Grades 2 - 4

Musical Theatre Level 1 allows students to find their inner stars as they learn to sing, dance AND act all at the same time!

Focusing on classical musical thatre numbers that tell a story; the ensemble will first learn the music and lyrics, then they will be encouraged to analyze the story and the characters involved in the song. The students will then be taught choreography and movement that will help with the physicality of the storytelling, and they will be directed to act as their respected characters in scenes that lead into the musical number. The students will participate in the creation of props and costume pieces.

The final presentation will take place on Friday, July 26 at 2:30pm at the Robert Shackleton Playhouse. Admission is FREE for friends and family members of the students.


Musical Theatre: Level 2
"Triple threat training!"
Tuesday July 30 - Aug 2
(9:00 am - 3:00 pm each day)

Level 2 age recomendation: Grades 4 - 8

Musical Theatre Level 2 begins introducing students to the concept of different vocal ranges and character types that best suit their personalities.

Several sections from popular musical theatre numbers will be selected to best showcase students in smaller groups as well as larger ensemble numbers. The students will learn how to audition for roles as well as learn music and lyrics, choreography, and be directed in short scenes that lead into the musical numbers.

The final presentation will take place on Friday, August 2 at 2:30pm at the Robert Shackleton Playhouse. Admission is FREE for friends and family members of the students.