Producers Circle 2021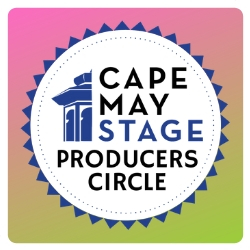 Producer's Circle benefits include:
Attend a private rehearsal.

An exclusive invitation to the "First Read" of your show when the cast is together for the first time.

A tour of the scene shop…see how sets are built and where the magic begins.

Attend a Producers Brunch at the theatre to meet other members of this society of patrons and be first to learn of the next season's line-up of productions.

Private invitations to wine receptions at the theatre to learn of behind-the-scene ways in which shows are created.
In addition to these exclusive events only availible to Producer's Circle members, each level of donations adds even more benefits!

Lead Producer - $10,000
Acknowledgment as Lead Producer on the Title Page in the Showbill of all plays of the 2020 season

Acknowledgment as Lead Producer on donor list in Showbill and on Cape May Stage's website

Four (4) Opening Night tickets for all shows of the season

Half page, color ad/tribute page in all 2020 season Showbills

Ten (10) "anytime" tickets to any shows during the season (subject to availability)

Unlimited discounted $25 tickets
Executive Producer - $5,000
Acknowledgment as Executive Producer on the Title Page in the Showbill of produced play

Acknowledgment as Executive Producer on donor list in Showbill and on Cape May Stage's website

Four (4) tickets to the Opening Night of Produced shows

Quarter page, color ad/tribute page in all 2020 season Showbills

Eight (8) "anytime" tickets to any shows during the season (subject to availability)

Unlimited discounted $25 tickets
Producer - $2,500
Acknowledgment as Producer on the Title Page in the Showbill of produced play

Acknowledgment as Producer on donor list in Showbill and on Cape May Stage's website

Two (2) tickets to the Opening Night of Produced shows

Quarter page, black and white ad/tribute page in all Showbill of produced show

Six (6) "anytime" tickets to any shows during the season (subject to availability)

Up to ten (10) discounted $25 tickets
Associate producer - $1,250
Acknowledgment as Associate Producer on the Title Page in the Showbill of produced play

Acknowledgment as Associate Producer on donor list in Showbill and on Cape May Stage's website

Two (2) tickets to the Opening Night of Produced shows

Four (4) "anytime" tickets to any shows during the season (subject to availability)

Up to eight (8) discounted $25 tickets