How Lucky Can You Get Cabaret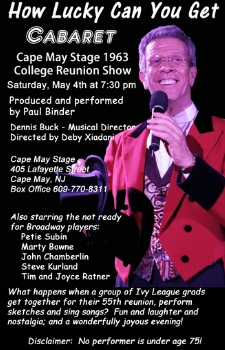 Saturday, May 4
7:30 PM

What does the Ringmaster and Creator of the world famous "BIG APPLE CIRCUS" do when he retires? Paul Binder created a fun-filled "musical circus" on stage, with his Dartmouth College classmates and spouses.


Come and enjoy a happy evening with songs you will recognize, featuring Paul, his gifted Musical Director Dennis Buck, and the "Not Quite Ready for Broadway Players", including local talents "Petie" Subin of Margate and "Marty" Bowne of Cape May, along with an excerpt of "Rhapsody in Blue" by pianist Steve Kurland.


This lively group will be fresh from a performance the previous week at the Triad Theater in New York City and are excited about their appearance at the Cape May Stage.
Presented and Performed by Paul Binder
Directed by Deby Xiadani
Musical Director: Dennis Buck
Also starring:
Petie Subin
Marty Bowne
John Chamberlin
Steve Kurland
Tim and Joyce Ratner